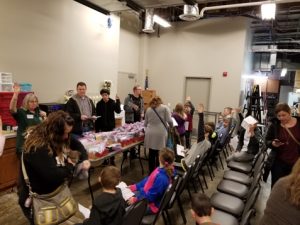 The Quad City Club was founded in 1937 as the Tri-City Coin Club of Rock Island, Moline and Davenport, and has met on the third Thursday of the month since the beginning, making it one of the oldest active coin clubs in the state of Illinois. In 1992, after the demise of the Davenport Coin Club, the membership decided to promote Numismatics on both the Illinois and Iowa side of the river and adopted its present name. In February 1999 we became a Not For Profit Corporation in the state of Illinois. Our membership has varied over the years, at present we have approximately 100 members with 30 to 45 attending each meeting.
The Quad City Coin Club holds its monthly meetings on the third Thursday of every month at 7:00 PM at the Calvary Lutheran Church, 2900 Avenue of the Cities, in Moline, IL.
Adult Membership (18+) is $7.00 USD a year we also Student Membership (Ages 7-17) is $3.00 USD a year, you can use the form below to join the The Quad City Club!
---