A BRIEF HISTORY
The Quad City Club was founded in 1937 as the Tri-City Coin Club of Rock Island, Moline and Davenport, and has met on the third Thursday of the month since the beginning, making it one of the oldest active coin clubs in the state of Illinois. In 1992, after the demise of the Davenport Coin Club, the membership decided to promote Numismatics on both the Illinois and Iowa side of the river and adopted its present name. In February 1999 we became a Not For Profit Corporation in the state of Illinois. Our membership has varied over the years, at present we have approximately 100 members with 30 to 45 attending each meeting.
MEMBERS COLLECTING INTERESTS
The range of collecting interests in numismatics can be as broad as the individual collector wishes to make it. The Quad City Coin Club will appeal to a collector in any category of numismatics. We have collectors of US coins, Civil War Tokens, Hard Times Tokens, Foreign coins, US and Foreign paper money and ancient Roman and Greek coins, and that is just to name a portion of our member's interests.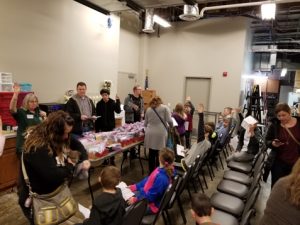 Our members range in knowledge from novice to specialist. All are willing to share their knowledge and their experiences, their trials and tribulations. The Quad City Coin Club is designed for the collector who wants to grow, to gain more knowledge, to get involved in the hobby that provides so many interesting and relaxing hours of enjoyment.
The atmosphere of our meeting is one of friendliness and camaraderie. Though we have an elected President officiating at each meeting, it's the membership that runs the club. Every member is "special" to the club. We value their ideas, their participation and involvement, and their presence.
ASSOCIATIONS
The Quad City Coin Club holds membership in the American Numismatic Association, the Central States Numismatic Society, the Illinois Numismatic Association, and the Iowa Numismatic Association.